Browse:
Airplane Kites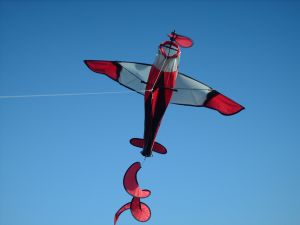 Here you will find our picks of the best airplane kites. These kites are realistic replicas of real airplanes.
Aeroplane 3D Nylon Airplane Kite: ME 109 by X-Kites

The Me 109 was the best airplane produced by Nazi Germany and was a formidable opponent to the allied bomber fleets during WW2. This graceful and fast plane is the inspiration for this realistic airplane kite. Features a solid fiberglass frame and a spinning propeller. More ...
Red Baron Kite

This unique three winged kite is modeled after the Fokker airplane piloted by the Red Baron during World War 1. The unit disassembles for storage and transport. More ...
Featured Kites and Wind Toys