Browse:
Dragon Kites
Here you will find a selection of both traditional and unique dragon kites to fly. This section features the our choice for the best dragon kites.
Red Dragon Kite

The Red Dragon Kite is one of the most amazing kites we have ever seen, featuring a beautiful and intricate set of spikes and reptillian jaws. And its huge. (Not to mention expensive!) This is the kind of kite that you might see at an Asian kite festival. More ...
Fire Dragon Kite

This dragon is an incredible 35 feet long! A separate flame-like appendage flaps in the wind, making it seem that your flying dragon is spewing fire on the ground below. More ...
Formosa Dragon Kite

A brightly colored dragon kite designed by award-winning kite artist Buteo Huang. Its traditional Asian dragon motif will stand out and provide hours of great family fun. Made of durable materials More ...
Featured Kites and Wind Toys
<! -- Cache is good - pulling from database --><! -- Cache is good - pulling from database --><! -- Cache is good - pulling from database -->
Prism Quantum Stunt Kite (Fire)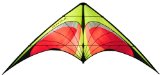 The ultimate choice for new pilots, the Quantums impressive 7-foot wingspan is big enough for serious pull and excitement and stable enough to make learning a snap. Wide wind range, adjustable bridle, and practically indestructible carbon frame make it the kite you can learn with now but never outgro...
Customer Review:Quantum Kite Review
It's very powerful. Easy to control. Withstands some nasty crashes. I would recommend to any beginning kite lover.
More ...