Browse:
Dragon Kites
Here you will find a selection of both traditional and unique dragon kites to fly. This section features the our choice for the best dragon kites.
Red Dragon Kite

The Red Dragon Kite is one of the most amazing kites we have ever seen, featuring a beautiful and intricate set of spikes and reptillian jaws. And its huge. (Not to mention expensive!) This is the kind of kite that you might see at an Asian kite festival. More ...
Fire Dragon Kite

This dragon is an incredible 35 feet long! A separate flame-like appendage flaps in the wind, making it seem that your flying dragon is spewing fire on the ground below. More ...
Formosa Dragon Kite

A brightly colored dragon kite designed by award-winning kite artist Buteo Huang. Its traditional Asian dragon motif will stand out and provide hours of great family fun. Made of durable materials More ...
Featured Kites and Wind Toys
<! -- Cache is good - pulling from database --><! -- Cache is good - pulling from database --><! -- Cache is good - pulling from database -->
Helicopter Kite Wind Powered Gyrocopter Airplane Glider Autogyro Stunt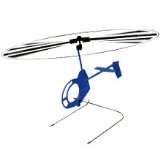 This item will fly up to 200 feet high. With some practice the pilot can learn to perform many different stunts and tricks. Touch and go landings, dives to the right and left and vertical take off and landing are just a few of the fun stunts to learn. The lifetime warranty is amazing because no toy s...
Customer Review:If there is wind then it Flies!
I had one many years ago and am surprised they still make this product. I had fun with till it broke. The part that holds the blade can break if the landing if rough. In strong winds it is easy to fly but crashing it can be hard. Worth the money spent. Buy several and challenge friends to a Kite ...
More ...
Red Carpet Studios Ltd. Cosmix Spinner Red and Copper - 14"long
Unique color combo Red with inside copper spinner, Spinns with slighest of Breeze, Comes with swivels and hook for easy hanging.
Customer Review:Copper Cosmic Spinner
I think the item is beautiful and priced right. Looks great hanging from my mom's deck cover where the wind spins it every afternoon.
More ...