Browse:
Free Kite Plans
This page provides information on how you can build your own kite, including free kite plans.
Free Plans to Build a Japanese Suruga Kite



This video demonstrates how you can build a simple Japanese Suruga kite. You will need the following materials:

Rip-Stop Nylon
Bamboo Dowels
Cloth Tapes
Double Stick Tape
Scissors

Watch the video for a quick demonstration of how to assemble your kite. Or go to ActivityTv.tv for detailed instructions.




Free Plans to Build a Dragon Kite

| | |
| --- | --- |
| | This video shows how to make a dragon kite. You will need the following supplies: rip-stop nylon, bamboo, cloth strips, a pencil, scissors,and gold tinsel. The result will be similar to the dragon kites which are popular in China and other parts of Asia. |
How to Build a Kite

| | |
| --- | --- |
| | This video explains what supplies you will need in order to build a kite. The larger your kite is the higher it will fly. Learn how to make a kite in this free crafts video. |
This site also has some good kite building plans.
Featured Kites and Wind Toys
<! -- Cache is good - pulling from database --><! -- Cache is good - pulling from database --><! -- Cache is good - pulling from database -->
Hot Air Balloon Sunrise Twist Spinner

Get more action with less effort. Just hang up a Twist, and let the wind add some pizzazz to your yard. Watch it spin and twirl in spiraling swirls of color. It's about 12"across and 40"long. Made of ripstop polyester.
More ...
Helicopter Kite Wind Powered Gyrocopter Airplane Glider Autogyro Stunt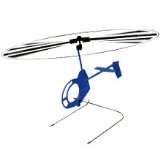 This item will fly up to 200 feet high. With some practice the pilot can learn to perform many different stunts and tricks. Touch and go landings, dives to the right and left and vertical take off and landing are just a few of the fun stunts to learn. The lifetime warranty is amazing because no toy s...
Customer Review:If there is wind then it Flies!
I had one many years ago and am surprised they still make this product. I had fun with till it broke. The part that holds the blade can break if the landing if rough. In strong winds it is easy to fly but crashing it can be hard. Worth the money spent. Buy several and challenge friends to a Kite ...
More ...