Browse:
Kite Safety
This page discusses Kite Safety, and outlines basic steps you an take to reduce the risk of injury and property damage when flying a kite.
While flying a kite is usually a fun and safe pastime, there are some dangers and risk involved. If a kite is too large and has too much lift, it can actually lift the operator off of the ground, or jerk his or her arms. Or the kite string can become entangled around the kite operator's throat, leading to injury or even death.
Below are some basic precautions to minimize the risk and allow everyone to enjoy kite flying.
Provide Adult Supervision


Make sure that any children are always supervised by a responsible adult.


Survey The Ground


Before flying your kite, check out the ground in the area where you will be standing. Make sure that there are no holes or obstructions that could cause you to trip and fall.


Be Careful of Lightning


As Ben Franklin discovered when he conducted his famous experiment using a kite, kites can act as conductors of electricity and draw lightning. Never fly a kite in bad weather or when there is the risk of lightning.


Stay Away from Power Lines


Never fly your kite near power lines. The kite can become entangled in power lines leading to power outages or electrocution.


Make Sure You Are Strong Enough to Hold the Kite


A large kite and/or a strong wind can exert a lot of upward pull on the kite operator. If the wind is gusting, the kite can jerk your arm out of its socket, or even pull you up with the kite. The video below illustrated what can happen when a man is pulled up into the air by a kite.



A video showing a man being pulled and injured by his kite.

Stay Clear of Buildings


You should never fly your kite in built up areas where it might collide with buildings or light poles.


Don't Fly Too High


Kites can reach amazing heights depending on wingspan and wind conditions, and of course the length of your string. But don't get carried away. If you fly too high your kite could actually interfere with aircraft. In fact, during world war 2, kites were sometimes used as obstacles to interfere with enemy bombers.


Now have fun and go fly a kite!
Featured Kites and Wind Toys
<! -- Cache is good - pulling from database --><! -- Cache is good - pulling from database --><! -- Cache is good - pulling from database -->
Helicopter Kite Wind Powered Gyrocopter Airplane Glider Autogyro Stunt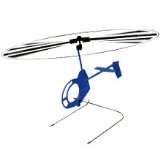 This item will fly up to 200 feet high. With some practice the pilot can learn to perform many different stunts and tricks. Touch and go landings, dives to the right and left and vertical take off and landing are just a few of the fun stunts to learn. The lifetime warranty is amazing because no toy s...
Customer Review:If there is wind then it Flies!
I had one many years ago and am surprised they still make this product. I had fun with till it broke. The part that holds the blade can break if the landing if rough. In strong winds it is easy to fly but crashing it can be hard. Worth the money spent. Buy several and challenge friends to a Kite ...
More ...